Auriea Harvey: Net Archeology
Year Zero is an exhibition culminating in decades of Auriea Harvey's mixed-media practice. Auriea Harvey: Net Archeology acts as a digital timeline and compendium to the exhibition at bitforms gallery, profiling Harvey's artwork from the early '90s to today. The artist's ongoing relationship with character creation and mythology touches many disciplines—ranging from early net art and collaborative processes to online performance, video games, drawings, and sculpture. This speckled chronology is punctuated by definitive digital works with Harvey's solo and collaborative career. The timeline has been edited and augmented as a historical reader to accompany the exhibition.
1990–2012: Sketchbook Videos are a collection of the artist's sketchbooks spanning the 1990s. The videos depict the artist slowly turning the pages through her own art history, revealing collage, poetry, photography, drawing, painting, 3D sculptural elements, and writing. Harvey's practice is continuously redefined by her experimentation through medium, as illustrated by this vast collection of works on paper. The works are accompanied by a soundtrack of music influential to the artist at that time.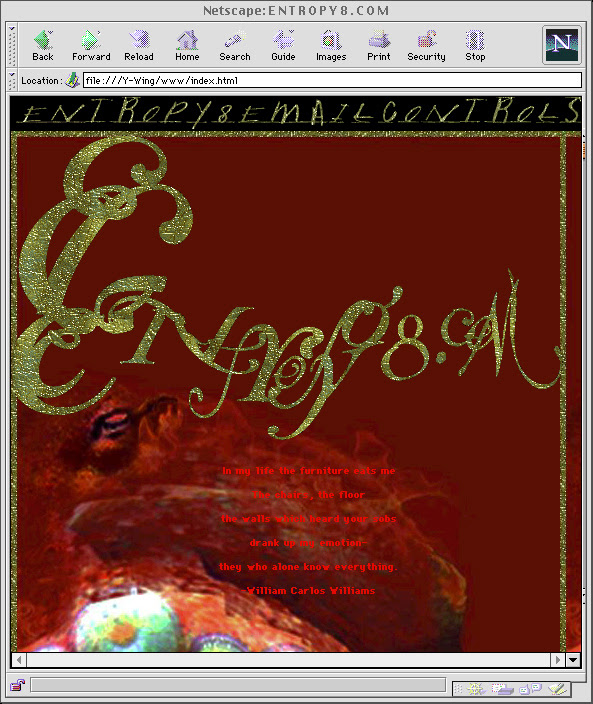 1995-1999: Entropy8 was the beginning of Harvey's networked practice, and where she first gained a notable reputation as a web designer and net artist. Entropy8.com was awarded the first two Webby awards for internet art, in 1997 and 1998. The site went through several distinct looks throughout its life and is still there in part, despite contemporary browsers' refusal to play Adobe Flash and other common faculties imperative to net art. 
1999:  In 1999, Harvey began live broadcasting herself via webcam. At the time, she was a member of the infamous net art collective, hell.com, where other participating artists would gather online. This is where the artist first met her long-time collaborator, Michaël Samyn. Webcam Videos reveal the artist in her workspace, perpetually online, at the height of net art's emergence.
Entropy8Zuper! was Harvey and Samyn's first collaborative project, maintained from 1999-2006. The shared site represented the union of their respective platforms, later becoming home to several significant net art projects, including skinonskinonskin, WIREFIRE, and The Kiss. Entropy8Zuper! played an integral role in the legacy of digital art through its production of unique environments for born-digital artworks. The interpersonal, interactive qualities exemplified by the following works speak to the possibility of significant online relationships—a reminder that couldn't come at a more perfect time while populations remain quarantined and sequestered, at times miles away from those that they love. 
skinonskinonskin is a series of digital love letters between artists Harvey and Samyn. First created on hell.com, the site was the first online pay-per-view artwork. The artwork follows the artists' correspondence through photos, video, and webpages, chronicling their growing relationship and the connection they shared online. Users could pay to view the works on a subscription basis, uniting the qualities of publication and witness intrinsic to the internet with the depth and fortitude of Harvey and Samyn's bond. skinonskinonskin is now viewable as an emulated website as part of Rhzome.org's Net Art Anthology. Read more about skinonskinonskin as written by Rindon Johnson for Rhizome. 
WIREFIRE was an online per­for­mance that occurred weekly on Thurs­day night at Mid­night (GMT) from 1999–2003. It was the first recurring online performance of its time. In her description of the work, Harvey describes the performances as technoromanticism, a way to impress the internet as a site of human connection, not a cold machine. WIREFIRE was handmade with Flash and Javascript to include interactive elements, rollovers, on-click mouse commands, and file sharing, that was previously inaccessible in text-only chat. As with skinonskinonskin, public interaction with this work was fundamental to nurture the community aspect of this performance and others on Entropy8Zuper! After each performance, the artists would each take a commemorative documentary photograph. View the collection of Wirefire Portraits and documentation of a variety of live performances.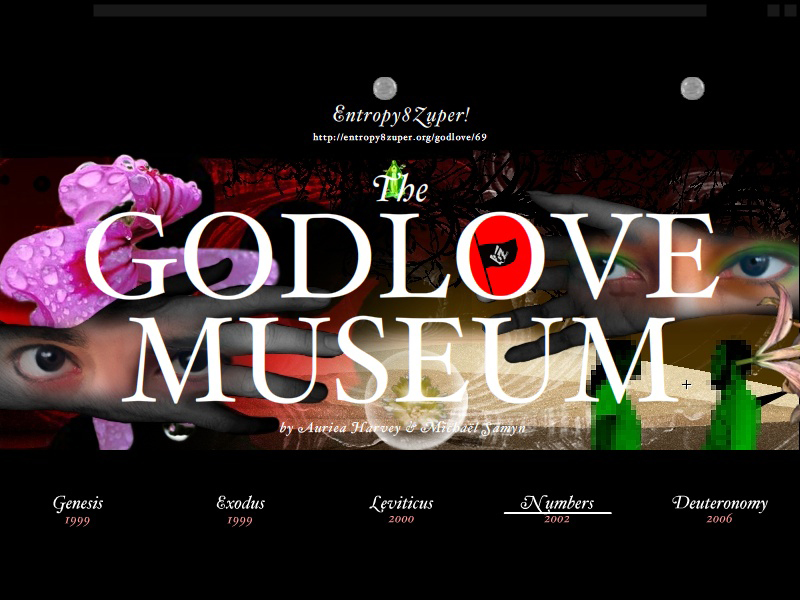 2000: The Godlove Museum, hosted on Entropy8Zuper!, presents web-based works that mix the personal lives of the authors with the mythical texts of the Bible. The series traces stories of creation and divinity to utterances of war and death, infusing politics and current events into classic parables. The Godlove Museum includes five works: Genesis (1999), Exodus (1999), Leviticus (2000), Numbers (2002) and Deuteronomy (2006), which were entirely remade from Web 1.0 into a standalone application in 2006. The site was awarded the first SFMoMA Prize for Excellence in Online Art. The New York Times covered the award ceremony, which culminated in a legendary non-verbal acceptance speech (yes, that is Bill Viola presenting the award).
The Kiss: Incorporator is made from 3D scans of Harvey and Samyn's naked bodies, kissing. Created with early body scanning technology, and ripe with machine errors in its attempt to scan one body instead of two, this work represents an important milestone of Harvey's first use of 3D scanning, a practice that is now emblematic within much of her sculptural work. Harvey describes the work on her website, writing, "The result is a single mesh of two painfully stitched together naked human bodies, welded together in an eternal, devouring kiss. The Kiss: Incorporator allows you to navigate the cavernous 'ocean of blood' inside of this mesh, through a three-dimensional soundscape of industrial and natural sound loops and towards the single eternally beating machine-heart, shared by both bodies."
Eden.Garden was commissioned by SFMoMA for the exhibition, 010101: Art In Technological Times. The exhibition was one of the first to present both an IRL and online experience, inviting over 35 artists for participation. In her description of the game, Harvey writes, "Eden.Garden works like a browser. You feed it a URL and it interprets the data. The text becomes the engine that drives the dance of the main characters. And the code defines the world." The project itself is no longer viewable, but image documentation shares the colorful environments and iconography of the website. After the completion of this work, Harvey and Samyn shifted their focus to video games, finding the potential for interactive work stifled within the museum and gallery circuit.
2003: The artists founded Tale of Tales as a video game development studio they ran out of Belgium. Their goal came almost as a manifesto, described by the artists as follows, "Our goal is to create elegant and emotionally rich art for a computer's interactive entertainment. As artists, we focus on beauty and joy. We want to create art for people. That is why we distribute our work online, and cheaply. As designers, we hope that videogames can be as diverse and meaningful as any other medium. We want to create playful experiences that appeal to both gamers and non-gamers. We try to design expressive interfaces to access engaging poetic narratives through simple controls."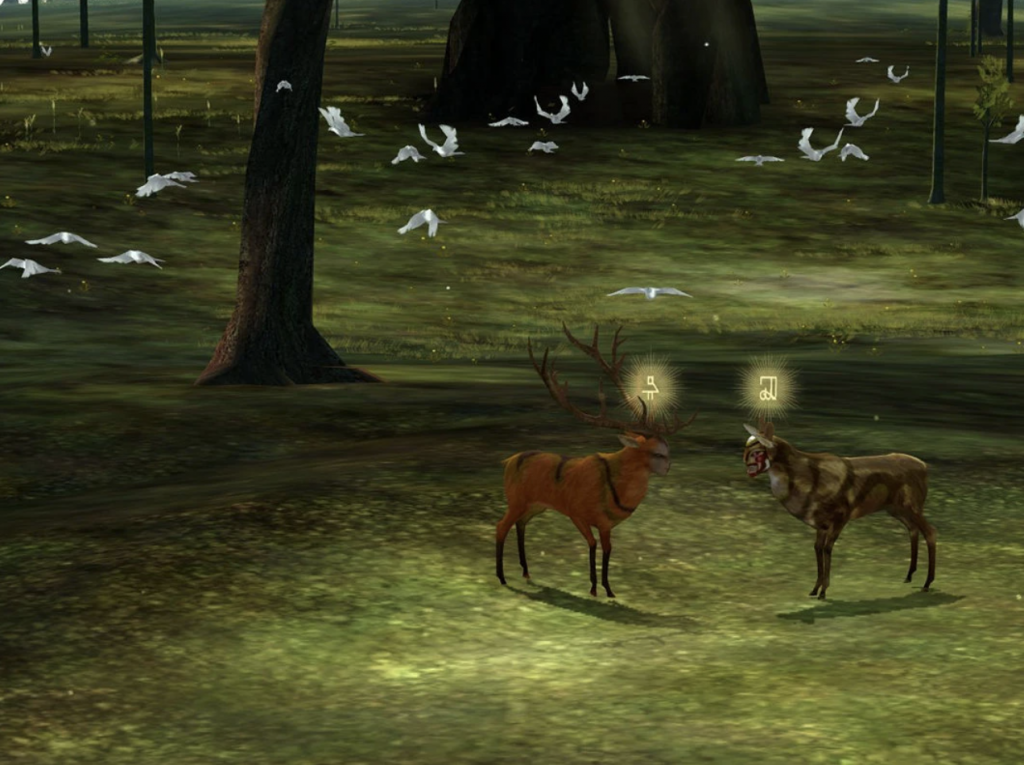 2005: The Endless Forest is the first online multiplayer game made by Tale of Tales. Within this game, there are no goals to achieve or rules to follow. Players run through the forest as deer, interacting and meeting others in a magical forest on the internet. All communication takes place via sounds and body language. Occasionally forest deities appear, seasons change, and celestial events take place. The work is also capable of self-playing mode, which is how it is displayed within Year Zero. This mode, referred to as Deer Observation Mode, oscillates between a peacefully sleeping deer to variable glimpses of the lush forest environment and social interactions with other users. 
2008: The Graveyard is a pure distillation of the Tales of Tales philosophy, "Made at a time when all videogames were 23 hours long and involved combat, we gave the world a game about being an old woman who visits a cemetery. Free download, but pay 5 dollars for death." This work encouraged poetry and contemplation within an industry tailored to fast-paced narratives and violence. Tale of Tales prioritizes artistry over action. This piece was featured in the Victoria and Albert Museum's 2018 exhibition, VIDEOGAMES: Design/Play/Disrupt, alongside another Tales of Tales' work,  Realtime Art Manfiesto (2006). Read a review of the exhibition in Frieze magazine. 
2011: Bientôt l'été is a beach simulation. Created within the purview of lonely space travelers, the work is based on the writing of Marguerite Duras. Players are lost in space, looking for a man, or a woman, to talk to, in French, if possible. Bientôt l'été is a videogame for two players. Two players who pretend to be lovers. They pretend to be lovers separated from each other by lightyears of deep space. They have lonely walks along the shore of a simulated ocean, thinking wistful thoughts of each other. View video documentation of the work. 
2013: Luxuria Superbia is an entirely different kind of game. Presented as a brightly colored, arcade-style game, it invites users to interact with stimulating gestures via touch screen or joystick. Hinting towards physical connection, each level is measured by touch and time. The artists describe it as positive, optimistic, joyous, encouraging, and perhaps even instructional. Awarded the NUOVO Award at the Independent Games Festival in San Francisco. Soundtrack by Walter Hus. View the video trailer and read an interview between Gamastura and the artists.
2016: L.O.C.K (Loci Omnes Caelesistis Kyries) shifts between a simple diagram and a fascinating machine. Exhibited in the gallery as video documentation of an interactive videogame, the original work is intended for touch screen users to experience by cyclically tracing through astral domains. L.O.C.K represents the entire universe of traditional Christian cosmology: twelve heavenly spheres with the earth at its center. Visitors circle through each spherical environment, guided by mystical surroundings on their way to Earth. Music by Walter Hus. This work was commissioned by La Triennale di Milano.
2017: Minorinth is a labyrinthine world, originally created as a virtual reality experience. As viewers witness the procession of the virtual world, they have two options: raise their arms to fly above the maze and sit atop the trees, or hold their arms down to descend into a subterranean cavern where a Minotaurus dances with her own shadow. The central character of the minotaur developed in this VR work informed Harevey's sculpture  Minoriea (2018) on view in the gallery. Expressed in video, sculpture, and augmented reality sculpture, the minotaur is a chimerical 3D portrait, personifying Harvey's animistic mystery.
2020: Year Zero presents a new series of work made with Harvey's hybrid practice of 3D scanning and printing. Cyclops, Ram, Ox, Minoriea, Fauna, and Messenger explore the characters who live inside the worlds and mythologies Harvey alters. These works are both physical and virtual entities, seen on display in the central ziggurat in the gallery and accessible via QR code. Forms are remade, recovered, and repossessed as Harvey weaves analog and digital elements together, unifying relics with emergent technology.